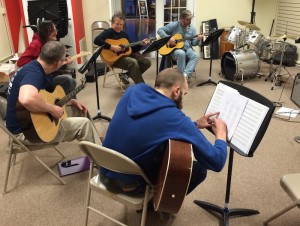 We are not currently offering guitar group classes, but you can take an individual lesson, or if you have a friend who also wants to play you may share a lesson.
This series of classes is for adults and upper teens who are absolute beginners on the guitar, already play a bit, or used to play and want to get back in shape.
Although some people use the class to supplement their private lessons, you are not required to take private lessons to be in any of these classes.
The course is offered in 2 skill levels. The first level may be repeated as many times as you like, until you feel ready for the next level. Skills for each level are described below.
For all classes:
Each session includes 6 weekly classes.
Each 6-week session costs $125. Fees will be prorated for sessions of different duration. All sheet music and other teaching materials are included in this fee.
You'll need your own instrument; contact us if you need help locating one. You may be able to rent an instrument from us for an additional $25 fee for each session.
Most semesters we will offer 2 or more sessions. You may take each level as many times as you wish. You may switch levels at the beginning of any 6-week session.
The age range is upper teens to mature adult.  (Children younger than high school age will be welcome in one of our youth ensembles)
You may register online to sign up for any of our classes.
Please email or call 217-384-5150 if you have any questions.
All classes are held at C4A.
Class

Beginning Guitar from Scratch

Continuing Guitar from Scratch

Skill level
Beginner; no experience required.
Comfortable with skills introduced in beginning class.
Instructor
TBD
TBD
Meeting times
Tuesdays, 5:30 to 6:30 PM
Tuesdays, 6:30 to 7:30 PM
Dates
On hiatus; please contact us if you are interested in this group
On hiatus; please contact us if you are interested in this group
Skills covered

Basic guitar-playing skills: tuning, holding the pick, right-hand and left-hand techniques, basic strumming styles, and some chords. Note: we will be using picks, not finger picking.

Developing skills learned in the beginning class, based on the needs and interests of those in the class: more chords, more strumming patterns, chord theory,
Register online
Register online
Register online
Contact
Email

217-384-5150

Email

217-384-5150

Next offering 
TBD
TBD