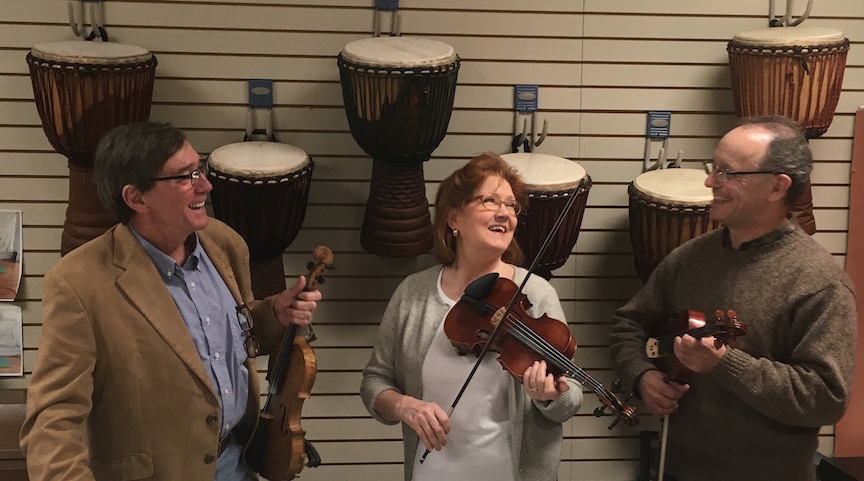 This series of classes is for adults and mature teens who are absolute beginners on the violin, already play a bit, or used to play and want to get back in shape.
Although some people use the class to supplement their private lessons, you are not required to take private lessons to be in any of these classes.
The course is offered in 3 levels. Each level may be repeated as many times as you like, until you feel ready for the next level. Skills for each level are described below.
For all classes:
Each session includes 6 weekly classes.
Each 6-week session costs $125. All sheet music and other teaching materials are included in this fee.
You'll need your own instrument; contact us if you need help locating one.
Most semesters we will offer 2 or more sessions. You may take each level as many times as you like, until you feel ready to move to the next level. You may switch levels at the beginning of any 6-week session.
The age range is high school to mature adult.  (Children younger than high school age will be welcome in one of our youth ensembles)
You may register online for any of our classes.
Please email or call 217-384-5150 if you have any questions.
All classes are held at C4A.
Level 1: Absolute beginners
Schedule: Wednesday evening 5:30-6:30pm
Dates: TBA.  Please contact us if you are interested in this section.
Skills covered:
holding the instrument and bow
basic concepts for sound production
introductory fingerings
how to tune the instrument using a tuner
begin to develop your sense of rhythm using a metronome.
By the end of this class you should be able to play a few simple tunes and understand how the violin works.
Instructor: Robin Kearton
Level 2: Continuing beginners
Schedule: TBA
Dates:
TBA. Please contact us if you are interested in this section.
Skills covered: 
This level begins to refine skills learned in Level 1. Additional skills include:
introduction of a new finger pattern
introduction of different keys
introduction of slurs and hooked bowing
learning to play more tunes, and have more control of your bow.
introduction to reading music if you don't already know how
By the time you are ready to graduate from this class you will be able to play more tunes and feel comfortable with a 2 octave G major scale and arpeggio series.
Instructor: TBA
Level 3: Advanced beginners to intermediate players
Schedule: Meets 5:30 to 7:00 PM Tuesdays, in the middle room downstairs.
Dates: 
2023 Fall session one starts September 12th and ends October 7th
2023 Fall session two starts October 24th and ends December 5th
Skills covered: 
This level continues to refine skills learned in Levels 1 & 2.  Additional skills include:
expand skills in tone production
deeper understanding of bow distribution
bow techniques for articulations
more finger patterns
chromatic fingerings
deeper understanding of keys and how they affect your fingering
introduction to understanding chords and harmonizing
introduction to harmonics
deepening music reading skills
deepening playing "by ear" skills
Repertoire will be selected from a variety of styles, and each arrangement will include a wide range of skill requirements so that everyone can participate at a level where they are comfortable.
The goal of this class is to prepare you to play in a mixed ensemble. Some people take the class and an ensemble concurrently.
Instructor: 
Robin Kearton