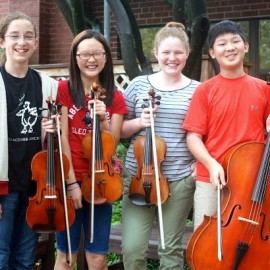 In keeping with our mission to make the arts accessible, we offer limited scholarship assistance based on financial need.  We cannot guarantee financial assistance; the awards we are able to offer are dependent on the funds in our scholarship account.
Students requesting financial assistance should contact us to inquire about our work-study and scholarship programs. Students seeking financial aid are required to fill out a scholarship application, which must be renewed each semester.
As with all personal information we obtain, information provided to C4A in scholarship applications is handled confidentially.
Can you help?
If you are able to support our scholarship program we have two ways for you to help:
 We have a fund for "need-now" scholarships and are always happy to accept modest donations.
If you are able to make a more substantial donation you may want to know about the scholarship endowment that we started with the intention of generating sufficient income for a self-perpetuating scholarship fund.  Donations to either fund will be very useful and appreciated.
Please contact us for more information.