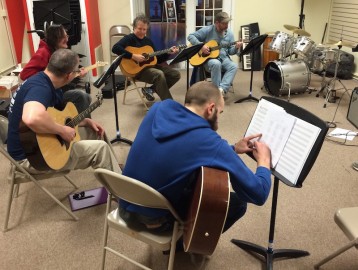 We are not currently offering Beginning Guitar Theory. Please contact us if you are interested in this class.
Beginning Guitar Theory will cover chord forms, progressions, scales, and other concepts to help you toward becoming an effective accompanist and soloist. The course will be tailored to participants' requests and experience; students are encouraged to sign up for several sessions.
The class is taught by Tom Faux, a veteran guitar and banjo teacher on C4A's music faculty and musicologist on the faculty of Illinois State University. 
Beginning Theory topics will include:
Major, minor, and 7th chords
Moveable chord forms
The blues
Major scales
Beginning improvisation.
And other things, to be decided in class.
Required skill level:
"Guitar From Scratch" or equivalent level of experience
Rudimentary knowledge of guitar chords
Ability to pick out a single string melody
Class
Theory for Guitar Players
Instructor
Tom Faux
Meeting time
Duration
6 weekly sessions; may be repeated multiple times.
Dates
TBD
Location
C4A room 8 (downstairs)
Skill level
Guitar from Scratch" OR be comfortable changing chords, and be able to pick single note melodies.
Contact
info@c-4a.org

217-384-5150

Cost
 $125 / 6-week session. May be taken multiple times.

5% discount if you register for both sections before September 30.

Next offering
TBD