Our primary mission at the Community Center for the Arts is to connect people through shared experiences in music, and we believe that the connections we create make our world a more creative, humane, and interesting place.
In the course of a typical year we all enjoy successes and encounter challenges, but obviously no one was prepared for our collective world to be turned upside-down by a pandemic! Still, even in very difficult times we can find some bright spots. Here are some of the highlights from our 2019-20 season:
LESSONS: INDIVIDUAL ATTENTION FOR PERSONAL MUSICAL DEVELOPMENT
We believe that greatest joy in music comes from playing with others. Our private and shared lessons are specifically tailored to help our students reach their personal musical goals and prepare them to participate in bands, orchestras, and other music groups
Our teaching artists can work with all ages and skill levels. They include some of the best musicians locally with backgrounds in classical, folk, rock, and jazz, giving our students access to expertise in a wide range of musical styles.
Our teachers are professional performers, both veteran and emerging artists, and many hold advanced music degrees. Additionally, 3 of our teachers are certified to teach Alexander Technique.
During the 2018-19 season we added 5 artists to our teaching roster to meet specific needs: Jonny Beckett, a jazz specialist to teach saxophone & clarinet; Loba Chudak, who is equally at home playing orchestral flute, recorder, and native flute; John Gantz, a long-time player of 3-finger style banjo; Dave Madden, well-known in the area for his abilitieson drumset; and Leigh Meador, who specializes in jazz piano. 
While we're always happy to bring on new teachers, we are proud to note that our continuing teachers choose to remain at C4A year after year, contributing stability and continuity to our pool of teaching artists.
DIRECTED ENSEMBLES: WHERE REALLY GREAT THINGS CAN HAPPEN!
Ensembles are the keystone of our organization and one of the best ways to create relationships around music. Most of our ensembles continue running year after year, allowing community musicians to really get to know one another.
AND–because our ensembles are based on community demand and the passions of our teaching artists–there's always something new coming up at C4A!
Where besides C4A would you find Country Music, Jazz, and Middle Eastern Music ensembles under the same roof—right along with a baroque orchestra, African drumming circle, and an award-winning kids' string band?
Learn more about our ensembles
Our ensembles give back to the greater community, often performing for charitable and civic events.
We welcome opportunities to collaborate with other community groups! Some of our community partners are listed here.
 GIVING BACK TO THE COMMUNITY
We are grateful for the support we receive from this community, and welcome chances to reciprocate. Naturally our contributions are usually in the form of music! Here are a few highlights from the 2019-20 season:
In the fall, our teaching artists presented "Music Mornings," a free Saturday morning musical experience for very young children and their caregivers.
The Bow-Dacious String Band performed at the Urbana Sweet Corn Festival in August of 2019. Since they could not perform in live events during 2020 they made a collaborative video to share, and are planning another to benefit organizations that work on social and environmental justice.
The Marvelous Cretaceous Band celebrated their 10th anniversary in the fall of 2019, but disbanded when the pandemic arrived.  Many members joined our new group, The Fleas, designed to accommodate online music collaboration.
Several of our teaching artists prepared professional quality performances that were either live-streamed or pre-recorded to share for free via online platforms.
We offered a free music performance during the CU Folk and Roots Festival's online weekend.
OUR RESOURCES AND EXPENSES
2019 INCOME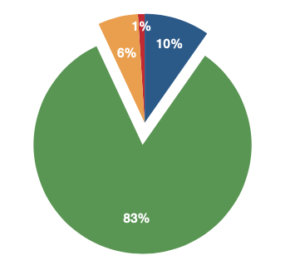 Our 2019 operating budget was $225,356.
Tuition fees came to $189,643, and The Illinois Arts Council Agency gave us a grant of $12,000 for general operations.
We received $22,112 in donations during the year.
The remaining income in 2019 was from facilities rentals and sale of extra instruments.
2019 EXPENSES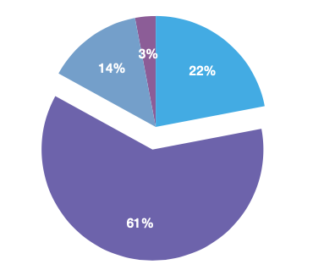 The biggest part of our expenditures are for programming, occupancy, and staffing.
Teacher payments and program supplies totaled $127,876 in 2019. Occupancy, including rent and utilities, came to $46,969, and $33,474 went to administrative expenses, including administrative staff, and bookkeeping.
We awarded $3540 in work/study arrangements and scholarships, and spent $2782 on advertising.
The balance of our expenses consists of insurance, bank fees, licensing, and professional affiliaition membership dues.
WHAT'S NEXT?
At this writing we're at the end of the fall 2020 semester. Our collective world has been turned upside down by the COVID-19 pandemic. The US has been rocked by political division and cries for racial justice.

What does this mean for our community music school?  It means that we, like everyone else, have a lot of work to do. In addition to rebuilding financially, we need to find ways to be even more inclusive than we have been before, to reach out to even more of our local and possibly, our global community. , and it's been a great season so far! End-of-semester recitals are wrapped up, and  we're looking forward to spring semester.

We are in the planning stages for initiatives to expand programming and build more connections that will extend our reach in the community so we can engage more people from different social and cultural backgrounds.

In the opening paragraph we mentioned encountering challenges.  Here are two that we face on a nearly daily basis:
We need to improve our facility and equipment to keep providing the best space possible for making music.
Requests for financial assistance are greater than available funding.  We do what we can, but we want to do more!
Can you help us out with a tax-deductible donation? 
We will be sure to put it to good use, and you'll have the satisfaction of knowing that you are helping make our entire community stronger and more vibrant!
You can send us a check, made out to C4A, at 103 N. Race St, Urbana, IL 61801 OR you can use the PayPal button below to make your donation online.  It's secure, and you don't need a PayPal account–you can do it as a "guest."
Thank you for your interest in C4A, and for any help you can give!