Join an ensemble! Play great music with other musicians! Make new friends!
YOUTH ENSEMBLES
Our ensembles have a dual goal of providing excellent music training and fostering a relaxed setting for musical socializing. 
C4A's award-winning ensemble for bowed & plucked strings (other instruments by consent) ages 6 through high school. Repertoire includes traditional dance & fiddle tunes, international folk songs, pop, rock, blues, and jazz.
Here's your chance to join a band and rock out under expert guidance that will help you improve your skills! We'll have chances to perform too!
Check out our Open Mic just for kids! Want to sing a song? Play a solo on your instrument? This is the place to do it!  Pop? Rock? Classical? Any kind of music you want to perform is OK!
ENSEMBLES FOR ADULTS
Our ensembles for adults are designed to keep adult amateur musicians engaged and growing musically.  
They are accessible to a wide range of skills and instruments. 
Get in the groove with our African drumming circle!
Classic country, for any instrument!
Lots of performance opportunities!
All adult, all music!
Join this band for camaraderie and great tunes!  Details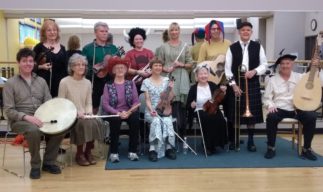 Old music (baroque, renaissance, and romantic periods) for modern musicians on almost any instrument!