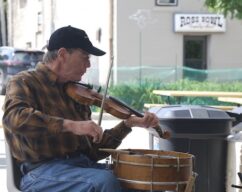 This year's Fiddle & Jam Weekend is Saturday, June 3 and Sunday, June 4.  The festivities will all be held in Urbana at the Rose Bowl Tavern, the Channing Murray Foundation, and C4A.
Thanks to grant funding from Urbana Arts & Culture, we will offer LOTS of free events, including old-time community jams, concerts, dances, and watching our second annual Fiddle Anti-Contest! We will have even more workshops this year–for fiddle, banjo, dance, and piano–and fiddle players of any age can play in the fiddle anti-contest!
Free events including jams, concerts, and dances do not require a registration. Workshops and the Fiddle Anti-Contest require registration and a small fee. Scholarships are readily available!
Free Events Concerts, community old-time jams, community contra dance! 
Workshops Fiddle, banjo, piano, and dance for middle school age through adults
Fiddle Orchestra Grade school through high school age string players
Fiddle Anti-Contest a chance to play a solo for an audience and receive comments from our judges
Fiddle Weekend Staff Meet the performers, instructors, and judges for the weekend!