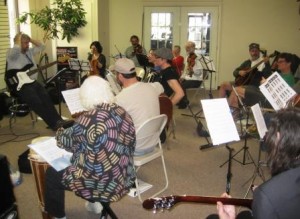 We offer many classes designed specifically for adults and upper teens.  Most are open to age high school and older, but please be sure to check specific listings for age limits.
Learn the Basics: Music classes geared towards high school to adult age students interested in entry level music classes.
Develop Your Skills: Music Classes for students with some experience: advanced beginners, intermediate players, and those with well-developed skills. Please check individual listings for details.
Violin from Scratch Level 3 (formerly Continuing Violin): for violinists with advanced beginning to intermediate skills. May be repeated.
Continuing Guitar Class is a follow-up to our Guitar from Scratch offering.  If you know basic guitar skills (right-hand and left-hand techniques, open chords such as G, C, D, Am, Em, F, A, E and B7, and you can change chords at-tempo, then this is the class for you!
Oud and Middle Eastern Music for Upper Beginners: for advanced beginners and up
Ensembles: We also offer large and small mixed-instrument ensembles for players with various musical interests and at many skill levels. You will find information about our ensembles here.
You may register for any of our offerings here.  If you have questions, please contact us.