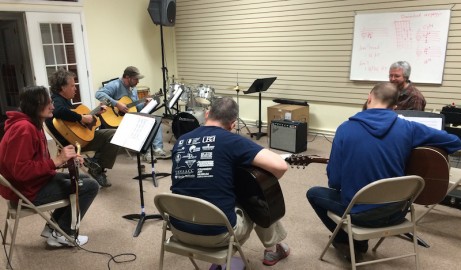 Please contact us if you are interested in this class.
Advanced topics in guitar theory and practice.
This is an ongoing class. We will explore topics of interest to participants. Possibilities include:
Extended chords
Altered chord voicings
Country and bluegrass
Working from lead sheets
Nashville notation
Steel guitar licks
and more!
This course may be repeated.
For a basic foundation in guitar theory, check out:  Beginning Music Theory for Guitar Players
Class
Advanced Theory for Guitar Players
Instructor
Tom Faux
Meeting time
Wednesdays, 6:00 to 7:00 PM
Duration
6 weekly sessions
Dates
Session 1:

Session 2:

Location
C4A Studios (1st Floor)
Skill level
Contact instructor
Contact
info@c-4a.org

217-384-5150

Cost
$100 per 6-week session.  May be taken multiple times.
Next offering