Patt & Possum: Charlie Walden (fiddle) and Patt Plunkett (keyboard)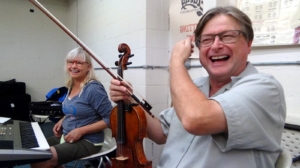 After twenty-five plus years of playing together Patt Plunkett and Charlie Walden have learned a thing or two about getting along musically. While some couples might bicker about the bills or where to go out to eat, these two do battle over chord progression and set lists.
Charlie and Patt both grew up listening to and playing traditional mid-western fiddle music. Charlie learned as a teenager at the feet of some of Missouri's finest old time fiddlers, including Pete McMahan, Taylor McBaine, Bob Holt and Cyril Stinnett and was encouraged by countless others. Along the way he also developed an interested in Canadian fiddle tunes as the fiddling in the Ottawa Valley is similar in style and shares some common repertoire with Missouri. As such, other important influences through recordings were Graham Townsend, Don Messer and Ned Landry. He's a big fan of Kenny Baker, Chubby Wise and Joe Meadows where Bluegrass is concerned.
Patt started out by playing piano for her grandfather, Carl Voorhees, who was a seasoned Illinois square dance fiddler. She went on to play Irish-style piano accompaniment and formed a ceili band in Chicago, which won the local Fleah Ceol twice. She is also a professional music educator and trained singer. Patt's love of music and natural ability as a dancer led her to take an interest in square and contra dance calling and instruction along with individual clogging and step dance performance.
Charlie and Patt are active contra and square dance musicians, performing for numerous such events each year. They serve as instructors at several music camps, giving instruction on fiddle, piano styles, traditional dance and vocal music. They co-host the Big Fiddle Show, a weekly fiddling and variety program on YouTube.
Chris Talley: Fiddle workshops, Anti-contest judge, Fiddle orchestra
Chris plays traditional bluegrass and old time music. She has been playing music since age 5, and teaching since age 13! Her main instruments are banjo, fiddle, and guitar.
She has won numerous banjo and fiddle contests, including the Illinois State Old Time Fiddle Championship, and the Illinois State Fair and ITCMA (Illinois Country Music Association) Illinois State Championship on both Banjo and Fiddle.
The Chris Talley Trio produced six CDs during its 20 years of performances, and Chris has produced several of her own instructional CDs and DVDs for banjo and fiddle. Though she has played extensively, Chris' main love is teaching. She owns a music store called The Bluegrass Shack in New Athens, IL, where she teaches various workshops, and private and group lessons, and she is very active as a clinician at fiddle and banjo workshops and festivals.
Jessie Stark: Fiddle orchestra, Fiddle Sax
Jessie Stark is a violinist who has been an active performer in both the fiddle and classical music scene in Champaign-Urbana and Chicago for the last ten years. Jessie has taught students of all ages, levels, and styles throughout Chicago and the Dallas/Fort Worth area. Her teaching style focuses on creative ways to make violin fun and covers a myriad of styles.
Jessie was the 2022 Illinois State Old Time fiddle Champion. She was a founding member of indie chamber-rock group Renegade Lightning Rebellion and performed on violin and accordion with them for five years in Chicago and the Midwest. Jessie co-founded the band Fiddle Sax in the midst of the COVID-19 pandemic. The band plays a fresh takes on old-time and Irish fiddle tunes.
Kathleen Everingham: Anti-contest judge
Kathleen Everingham is a multi-instrumentalist who has fiddled in various bands and for local and regional contra dances for decades, inspiring and instructing several current CU fiddlers and others who have migrated away from the CU area. An extraordinary harmonist, Kathleen's soul flows through her fingers. Kathleen has fiddled in The Peppermill String Band, Prairie Homestead, ShakeRag Bridge, and Big Bluestem.
Laura Sleade: Open Jam leader
Laura is an old-time fiddler who particularly enjoys Illinois fiddle tunes. She has played for dances and historic sites. She has attended jams for more than 20 years and the weekly jam in Urbana since its inception 15 years ago. She finds community jams to be wonderful places for playing music with other people. These friendly jams are open to musicians of different ages and abilities, but all are old-time music lovers! Tunes, tempos, energy all vary based on who attends and no two jams are the same! Come hang-out and play some music!
Tom Faux: Clawhammer banjo workshops, Open jam & Slow jam leader, Accompanist
Tom is a year-round teacher and programming director at C4A. He has been accompanying fiddlers in contests since he was in his teens! Here's his bio.
Robin Kearton: Fiddle orchestra leader, Slow jam leader
Robin is a year-round teacher and executive director at C4A. She loves violin/viola/fiddle in just about any style of music!  Here's her bio.