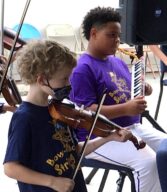 A driving force in the CU kids' music scene since 2003, the Bow-Dacious String Band consists of kids aged 6 through high school, who get together weekly to play popular music styles on violin, viola, cello, bass, guitar, mandolin, banjo and other stringed instruments. We also welcome accordions, pianos, melodicas, flutes, and percussion. Other instruments with instructor consent.
This band performs a lot, and the repertoire is drawn from traditional and popular music genres from the US and around the world. Our emphasis is on developing strong ensemble skills, soloing, improvising, and learning applied music theory as it relates to the tunes we play. Band members also get experience with public presentation and develop leadership skills, and create friendships through music that can last a lifetime!
Students are divided into groups according to age and skill level, and each group receives instruction that is just a bit challenging for their level. Placement in groups is at the discretion of the director.
Tunes are taught by ear; sheet music, video tutorials, and audio recordings are available to help band members practice at home. (Don't worry if you can't play by ear–we've been doing this for years and know how to make it a fun and painless way to learn!)
Eligibility:
This group is for kids only. Adults who want to play may find their own peer groups in our Cretaceous Band or other adult ensembles.
You do not need to take private lessons to play in the band, but you do need to know how to play your instrument. Although we don't accept absolute beginners into the band, admission standards are designed to be inclusive. Violin, viola, and cello players need to be able to play Twinkle or an equivalent tune at singing tempo without stopping. Other instrumentalists should contact us to see if they are ready to join the band.
Check out some of our videos!
Please contact us if you have questions!
Class

Bow-Dacious String Band

Instructor

Robin Kearton

Meeting Time

Sundays, 4:00 to 5:30pm

Dates

September 10th to December 10th, 2023.

Late registrations accepted.

No meeting on November 19 & 26.

Duration

12 weekly sessions

Meeting Location

C4A, upstairs in room 7. (Use Race St entrance).

When we meet inside we will follow public school COVID-19 protocols.

When the weather is nice we often play out of doors.

Ages

6 – 18
Contact us if you are looking for a group experience for a younger child

SKILL LEVEL

Bowed or plucked stringed instruments: advanced beginner level or above.

Flutes: need to know how to play their instrument.

Keyboards: need to know note names; basic chords helpful but not required.

Percussion: need to be able to keep a steady beat.

Other instruments by consent.

Contact

Cost

Fall semester: $175



Discounts may apply.

Contact us if you require financial assistance.

Next Offering

Spring 2024