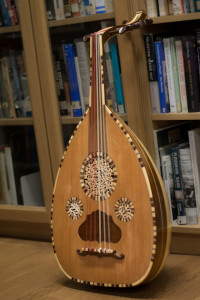 C4A is delighted to offer its first classes in Oud and Middle Eastern Music!
The oud is a stringed instrument commonly played in the Middle East, North Africa, and throughout the Mediterranean region. It has a fretless short-neck with 5 or 6 double strings and a round box at the back. It is plucked using a special pick called a "risha."
The music of the oud is powerful and expressive, and this is a rare opportunity!
Oud instructor Fadi Alnaji was trained at the renowned Taqasim Music School in London.  His course will include basics of Middle Eastern music as well as oud technique. You will learn the fundamental musical scales (Maqamat) on the Oud and necessary skills needed to play traditional songs and Taqasim (an Arabic word meaning improvisation).
The course may be taken on other instruments, by permission of the instructor.
Oud and Middle Eastern Music for Beginners
No previous music knowledge or music reading is required to attend this course.  We will use tablature and you will learn some of the the basics of reading the music during the course.
The first lessons are devoted to correct posture and basic exercises for hand coordination. After that, we'll learn the 8 fundamental scales, along with a tune or two to play in each scale.  At the end of the course you should have a basic understanding of the music theory and technical approach to the instrument.
Oud and Middle Eastern Music for Upper Beginners
Those wishing to take this class should have the basics of playing and the desire to sharpen their skills further. Oud and Middle Eastern Music for Beginners is a suggested pre-requisite.
You must bring your own instrument to participate in either class. Please contact us  immediately if you would like to order an inexpensive oud for the class.  (The course may be taken on other instruments, by permission of the instructor.)
Class
Oud  and Middle Eastern Music
Instructor
Fadi Alnaji
Time
Upper Beginners: Saturdays, 1:00 PM to 2:30 PM.

Beginners: Saturdays, 3:00 PM to 4:30 PM.

Dates
September 12 to December 12, 2018.

No class November 21 .

Duration
12 weekly sessions
Location
C4A, Middle Room
Ages
High school to adult
Skill level
Beginner; no experience required
Contact
info@c-4a.org.

217-384-5150

Cost
$150 (includes educational materials)

You need to bring your own instrument. Contact us if you need help finding your Oud.

Next offering
Spring 2019
The Taqasim Music School

, based in London, was established in 2011 to teach the Oud, one of the most significant among instruments and disciplines that represent the Middle Eastern Music.  The school's founding director, Iraqi Oud Master Ahmed Mukhtar, has been carrying the music and Oud on his shoulders since he was a boy. His goal is to present his music, as a cultural bridge, to various nations with the utmost beauty and passion.