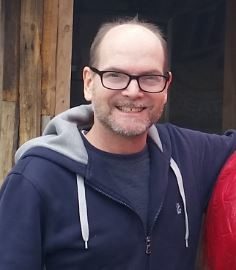 Jonathan (Jonny) Beckett has been a professional saxophone player in local and national venues for over 30 years. His experience teaching includes a wide range of ages and skill levels; he is currently teaching at Parkland College, where he is the director of the Parkland Wind Ensemble, and teaches Music Appreciation, Non-Western Music, American Music History, and applied private instruction.
He enjoys teaching basic improvisation through the use of simple concepts and simple structures, and has a particular affinity for working with shy or introverted kids.
You can see Jonny perform locally with his own band, Jive Bag, as well as Candy Foster and Shades of Blue, Bruiser and the Virtues, Kevin Hart and the Vibe Tribe, Tons of Fun band, Decatur Big Band, Jim Markum Swing Band and many other local musicians.
He earned the degree Doctor of Musical Arts in Jazz Performance from the University of Illinois in 2013, and Master of Music from the University of North Texas in 2006. He was a featured soloist and clinician with the One O'clock Lab Band at North Texas, as well as with the Dallas Jazz Orchestra. Dr. Beckett recorded the CD "Jonny Beckett, Son of a Mother," released on the Armored Records label in 2014.
Jonny has shared the stage with nationally known musicians including Gene Perla, Harry Connick Jr., Rosemary Clooney, Steve Allen, Jimmy Heath, the Temptations, Kenny Rogers, Ray Price, The Ojays, and many others.