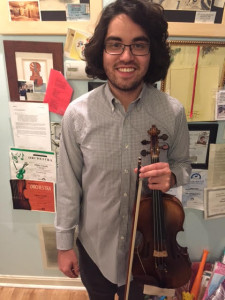 Johnny Lusardi: violin, fiddle, Kids' Rock Band
Johnny enjoys working with students of all ages and levels of experience, from beginners through more advanced skills. He has an extensive background in classical violin with experience in solo and orchestral playing as well as chamber music. He has also studied in jazz improvisation and fiddling (Irish and American). As an instructor, his main goal is to show each of his students that making music is a fun and rewarding experience.
A native of Louisville, Kentucky, Johnny received a Master and Bachelors' of Music in violin performance from the University of Illinois at Urbana-Champaign. He has studied violin with Stefan Milenkovich, Nelson Lee and Gloria Spurlock, viola with Rudolf Haken, jazz improvisation with Larry Gray, and chamber music with the members of the Jupiter String Quartet.
Professionally, he has performed with the Kankakee Valley Symphony, the Champaign-Urbana Symphony, and the Urbana Pops Orchestra. As a member of the Clark Gibson Studio Orchestra, he appears on the album "Bird with Strings: the Lost Arrangements".  
A lover of many styles and genres, Johnny has performed locally and toured with the bands Sun Stereo, The Aquila Trio, and the Tuesday Lovelies and several other.