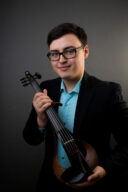 Andreas teaches violin and viola, and is comfortable with students of all ages and experience levels.  His special areas of interest include electric violin and baroque violin. He performs locally with the Champaign-Urbana Symphony, and during the summer of 2022 he performed electric violin at the Bayreuth Young Artists Festival in Bayreuth, Germany.
He received an M.M. in Violin Performance and B.M. in Viola Performance from the University of Illinois at Urbana-Champaign, where he also studied alexander technique and biomechanics as electives. During his time at UIUC he enjoyed playing with the Hip-Hop Collective, Electric Strings Ensemble, Concerto Urbano Baroque Ensemble, Champaign-Urbana Symphony Orchestra, and Sinfonia da Camera. Honors include the String Division Achievement and the Carolyn Mitchell-Davy Memorial Awards. 
Andreas encourages his students to play multiple genres and instruments, and takes a person-centered approach to string pedagogy.