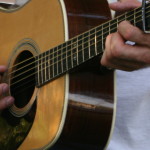 This class is designed to follow the Guitar From Scratch class, so if you have taken Guitar From Scratch, then this class will be perfect for you.  Also, if you know basic guitar skills (right-hand and left-hand techniques, open chords such as G, C, D, Am, Em, F, A, E and B7, and you can change chords at-tempo, then this is the class for you.
Class

Continuing Guitar Class

Instructor

Dyke Corson

Meeting Times

Tuesdays, 6:45 to 7:45

Dates

Session 1: January 31 to March 7, 2017

Session 2: March 28 to May 2, 2017

duration

6 weekly sessions

Meeting Location

C4A Studios, Room 7 (upstairs

Ages

Students high school age or older

skill level

Advanced Beginner–Guitar from Scratch or instructor consent

Contact

Cost

$100 per 6-week session


Next Offering

Fall 2017
Because the song selection will vary with each class, this repertoire-building class can be repeated several times.
This will be a group class with an emphasis on sharpening many techniques within the context of playing specific songs, and developing a repertoire of songs.  We'll work on developing better rhythm guitar techniques including alternating bass notes, bass runs, and moveable chord shapes.
We'll work on specific songs during this class, and students will recommend the songs that we'll be playing.  This is a great chance to work on those songs that you've always wanted to play, so dig out those song books and bring some tunes to class.
We will also cover basic finger-picking during this class and work on at least one song using finger-picking techniques.
You should come away from  this class with a much better understanding of many rhythm guitar techniques and how to apply these techniques to play some of your favorite songs.