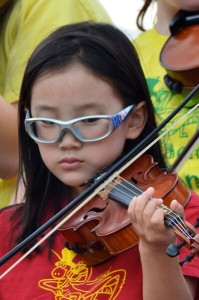 Each year in our history has been remarkable, and it's always a challenge to distill an entire season into a snapshot that we can share.  Our 2014-15 Season saw a variety of changes and additions–both obvious and subtle–that made it noteworthy and, perhaps more importantly, laid the groundwork for the current 2015-16 season:
There was a subtle shift in some of the ways we think about music making and education, allowing us to solidify our approach as we continue to place high value on quality instruction and performance.
We expanded our administrative capacity to better serve our students and community.
We were very fortunate to have an opportunity to expand our facility to include a beautiful new rehearsal and performance space.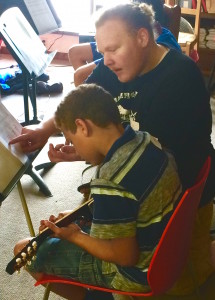 We have always known that music lessons 

are valuable for individual growth. To give our students access to high quality instruction we have always selected our dedicated teachers from a pool of the best players in the area. Our 20+ teachers are among the most active classical, jazz, folk, and rock players around.

During the 2014-15 season we added jazz pianist/vocalist Kristin Sponcia, expanded the role of guitarist Steve Meadows to include instruction in pop vocals, secured bluegrass banjo instructor Jeremy Koch to pick up where our retired instructor, Ken Holmes, left off, and secured Sam Gingher to take over the accordion studio when our former teacher, Celia Faux, made plans to leave the area.

Right: Faculty guitarist, Steve Meadows, assisting a young student with the fingering for a chord.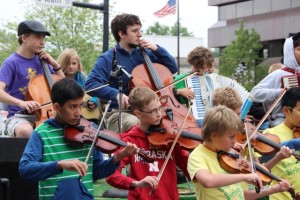 We have always valued ensemble playing, and in the past year it has become increasingly obvious that bringing people together to play music is key to our mission to cultivate and strengthen community.

Playing music with other people brings skills learned in the practice room out into the world for use in communicating with other musicians and connecting with audience members!

Right: Members of the Bow-Dacious String Band at a performance in our 2015 Race Street Bash.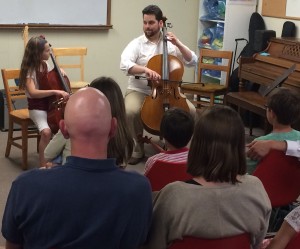 In keeping with our renewed focus on connecting people through music, we held more recitals in a variety of venues in our own studios and out in the community.

We enrolled more people in group classes; our group classes for absolute beginners on guitar and violin have helped a new batch of adult musicians start on an exciting musical journey.

Right: Faculty cellist, Sam Araya, playing with a young student in an informal recital held in one of our upstairs classrooms.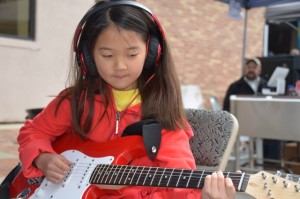 We paid attention to what people wanted, and worked to provide a wide variety of experiences to satisfy a wide range of ages, skill sets, and musical preferences.

Right: A young musician experimenting with an electric guitar at our 2015 Race Street Bash.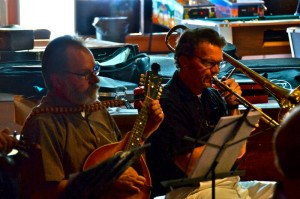 We added new performance ensembles to our roster of returning favorites, and currently offer ensembles for musicians from grade school age through adult with repertoire from roots, folk, jazz, and classical genres.

Right: Members of the Marvelous Cretaceous Band, now in its 7th season.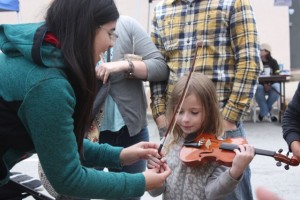 We kept our popular community giveback events like the Race Street Bash and the Faculty Showcase Concert.  In spite of the threatening weather, we had a record crowd of about 800 at our Race Street Bash, and our faculty played to a "standing room only" crowd at the Iron Post.

Right: faculty violinist, Maria Del Toro, helps a young girl get her first experience with a violin at the Race Street Bash.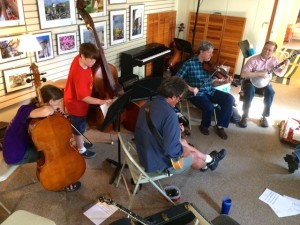 We also added a new community giveback event: the 48-Hour Old Time Jam. This event was an unqualified success, bringing together people from across our community as well as from Chicago and Springfield to play old-time music around the clock for 48 straight hours. Naturally we plan to do it again in June 2016.

Right: The 6:00 am shift at our first 48-Hour Old Time Jam, featuring kids who were up most of the night playing with older musicians who have just arrived.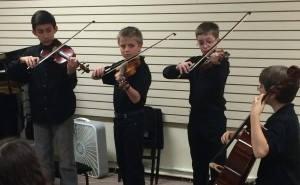 We experienced a deficit for the first time in our history in order to act on an opportunity to expand our facility and and need to shore up our administrative team.  We had a financial cushion, and our board of directors felt that the prospect for growth and improvement justified the financial risk.

Right: A string quartet of middle school aged boys performing at a recital in our downstairs rehearsal room.
This fall we have added a community chorus, a baroque/renaissance ensemble, and a flow arts class.  We also adopted a community jazz orchestra.  All of these groups are making use of the new space, pictured below, and having an entrance on Main Street has increased our visibility significantly. More and more people are becoming acquainted with C4A's programming and mission.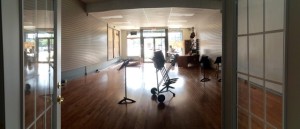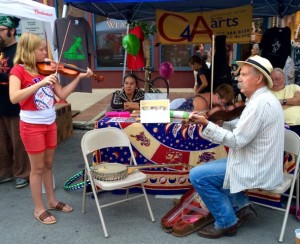 In addition to more administrative attention to behind-the-scenes work to support our programming, we now have a dedicated facilities manager who keeps our place clean and inviting!

We also have more attention for our outreach efforts, and have been better able to carry our message* out at community events.

*Our message in a nutshell: everyone deserves to play music if they want to, and playing music with other people is one of the best things in life.

Right: Our new fiddle instructor, Wayne Logue, jamming with a young C4A violin student at the Urbana Sweet Corn Festival.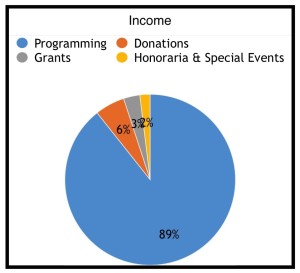 We make by far the largest portion of our income from our programming.  Donations are our second largest source of income.

Our total income for the 2014-15 season was just over $295,000.

Right: distribution of income from 2014-15 season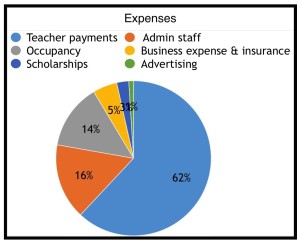 We put most of our income right back into offering the best possible music instruction to the people who want it.  The biggest portion goes to paying our teachers, admin staff, and rent/utilities, in that order.

Last year season we paid out over $187,000 to our teachers and awarded financial assistance valued at over $7,000. We welcome donations of any amount to help us meet the demand for financial assistance.

Right: distribution of expenses from 2014-15 season.
What's next?  At this writing we are about midway through the fall 2015 semester, and things are looking great!

We have a balanced combination of new and old in our organization:
Our new space is a great addition, and we are contemplating other remodeling to make the most of our facility.
We have new ensembles up and running, and our continuing ensembles are going strong.
We have new people signing up for lessons each week, joining our solid base of continuing students.
We have some excellent new teachers who have joined our established teachers to form a team of over 20 wonderful and varied instructors.
We are grateful for the support of our community, and pledge to keep moving forward with our work to bring people together through music!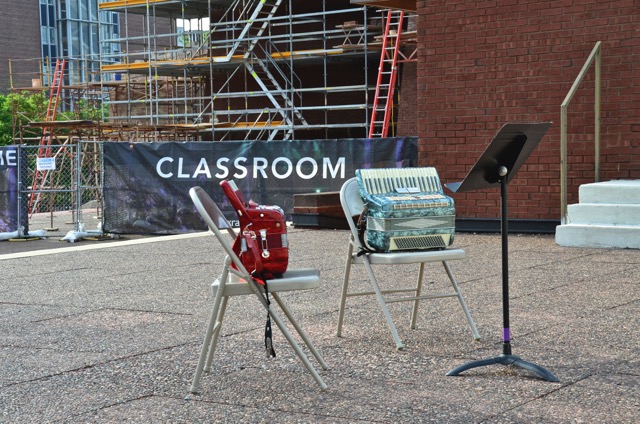 Above: Ready for an accordion recital at the Krannert Center amphitheater.
All photos on this page by Tom Faux, Tara Clawson, or Robin Kearton.
Would you like to help us with our mission to cultivate community through music?