Old-time music is best when shared in a circle with other musicians. Players from a wide range of age and experience are welcome–come join the fun!  This is a rare opportunity with substantial bragging rights!
Here is some information; please check back for updates soon. (5-4-15)
Dates and TImes: Friday, June 5,  2015 at 6:00 pm; Ends Sunday, June 7, 2015 at 6:00 pm.
Location C4A Studios, 103 North Race St (North of Corson Guitars and next door to Courier Cafe)
What will happen?
We'll play old-time music for 48 straight hours without stopping.
Don't worry–no one will play for the entire 48 hours! We'll take turns and play in shifts.
You can decide how long you'll stay: just for a little while, or for quite a long time. It's all good. You can go away to do something else and come back later.
Do you already know lots of tunes?  Great!
Are you new to old-time music?  No worries!  There will always be a core band of players who know the tunes and can get others playing along.
If you can pick up tunes by ear you can jump right in!
If you prefer to read sheet music that's OK–we'll have some on hand for you.
We'll also have chord changes to help rhythm players join the fun too.
During breaks you can listen, grab a snack, play cards or board games, chat with others, even take a nap! There are plenty of ways to relax while you're not playing.
Local community radio station WEFT-FM will check in with us during the course of the jam, so some of it will be broadcast on the radio.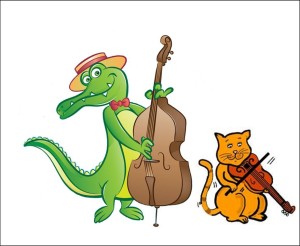 How do I join?
This event is open to musicians who play "c" instruments–especially string players.
Volunteers who can perform support roles are invited too–no musical expertise required!  We need people to help with greeting and signing in people who arrive to jam, keeping the snack tables stocked, chaperoning the napping rooms for tired jammers, and more.
Sign up for one shift or many (signup sheet coming soon–5/4/15)
There's no fee to participate.
We will ask you to sign an indemnity allowing us to use any photos we take and giving us your emergency contact information–just as a safety precaution. (Parents or guardians will need to sign for underage musicians and volunteers.)
Questions?
email us at info@c-4a.org   or call 217-384-5150
Please check back later for updates. (5-4-15)