So much more than just another fiddle camp, Bow-Dacious String Band camp is a week-long immersion in traditional and popular music, from the US and around the world, that transforms everyone into an integral part of a close-knit band.
This camp is ideal for young musicians who play bowed strings (violin family), plucked strings (guitar, banjo, mando, ukulele, etc), accordion, or piano. Other players should contact our director to see if they would fit in.
There are so many great things to do at Bow-Dacious camp!  Here are some highlights:
Playing gigs at the end of the week.
Playing in a big group, where we work on our arrangements together and get ready for our gigs
Playing in sectionals where we get technical coaching and help with our pieces.
Playing in small groups where we learn by ear.
Learning to take solos and use a microphone.
Learning to play harmony and back-up parts.
Guided jams, where you can play with your friends with help from a teacher
Electives, where you get to choose from different activities
Time to hang out with your friends at lunch and during breaks.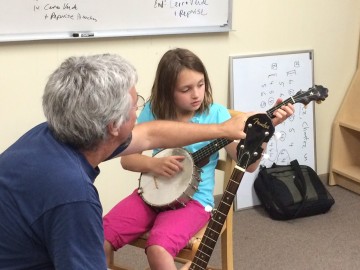 This camp has been going since 2003!
Bow-Dacious Camp Details:
Curriculum Look here to learn more about what we teach and how we teach it
Lodging We can accommodate out-of-town campers.
Teacher training  We can accommodate string teachers who would like to learn more about incorporating traditional and popular music into their studios or classrooms.
Local Interest  things for out-of-town family members to do while camp is in session