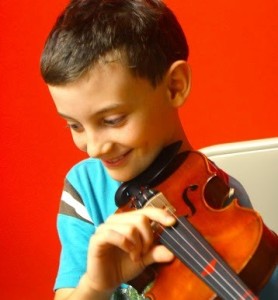 This will be a fun week of group music making for kids with at least 6 months experience playing bowed instruments.
Campers will warm up each day with tuning, singing, stretching, posture, scales and bow exercises, all carried out in a light-hearted manner.
There will be a big group where everyone plays together, and we'll also break into instrument specific groups–violins in one room, cellos in another–to work on arrangements of folk songs for violin and cello ensembles and practice our parts for when we play in the big group. Music games will round out the day, and at the end of the week we'll give a performance for family and friends.
After you've had fun learning about playing in a group you might enjoy the Bow-Dacious String Band Camp!
Camp:
Performing Music
Instructors:
Amanda Ramey
Dates:
June 12 – 16, 2017

Afternoon performance on Friday, June 16.

Duration:
One week, Monday through Friday
Meeting Time:
9:00 AM to 3:00 PM
Location:
Camp will meet at C4A Studios, 103 North Race Street

Friday afternoon performance at the Urbana Free Library

Ages:
7 to 11 years
Prerequisites:
See below
Cost:
Camp cost, Discounts, & Deadlines
Registration
Register Online or contact us
Contact:
info@c-4a.org   or  217.384.5150
Campers must have played their instrument for at least 6 months and completed level 2 of Folk Songs for Strings compiled by Samuel Araya and Amanda Ramey OR be able to play pizzicato songs with fingers on the middle two strings and play quarter and eighth notes with the bow on open strings.
You may also be interested in: