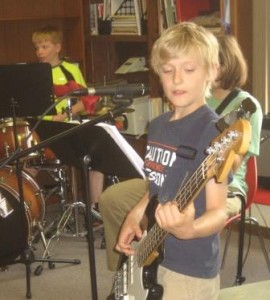 Sorry, 2017 Rock Camp is closed.
Being in a band is great fun and super cool–but how does it really work? What if you don't know what to do?
No worries!
This is a great opportunity for you to improve your chops (basic, intermediate, or more advanced skill levels) and develop your ensemble skills in a setting designed for social and musical interaction.
Naturally we'll spend lots of time playing music AND we'll also put special attention on areas that most young musicians don't know about:
How do you figure out harmonies?
How do you give that special look that tells your bandmates what you want to do next?
Exactly *how* can you make all the different parts fit together?
What are some ways you can work out differences so your band can stay together and everyone feels good about it?
What do you do if you feel nervous before a solo?
What do they mean by "stage presence" and how can you cultivate it?
How can you learn to be versatile so that you can play lots of different styles?
How do you get gigs?
What are some common pitfalls in bands, and how can you avoid them?
How can you be flexible so you can play with lots of different people?
Even if you already have a bit of experience, you can learn something at this camp.
Although our teachers will be there to help you during camp, they will also teach you some ways you can work without a teacher–just like a real band! These are excellent skills to learn, and they will help you be able to play with other people for the rest of your life.
We'll have a public gig at the end of the week–invite your fans!
Camp:
My First Rock Band
Instructors:
Josh Houchin
Dates:
July 10 – 14, 2017
Duration:
One week, Monday through Friday
Meeting time:
9:00 am to 3:00 pm
Location:
C4A Studios – Upstairs
Ages:
7-15
Prerequisites:
You should already be taking piano lessons
Cost:
Camp cost, Discounts, & Deadlines
Registration:

Sorry, registration is closed.

Register Online or contact us

Contact us:
info@c-4a.org or 217-384-5150
You may also like these camps: