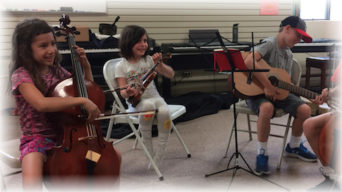 Learn how to play music in a group! For kids who play bowed/plucked strings, keyboard, or percussion.
There's no need to wait until you're "good enough" to start playing with other musicians–we will teach you how to work in a group even if you've only been playing for a short time!
Our focus from 9am to noon each day will be on skills required to be a good ensemble player:
Rhythmic precision
Group tuning
Responding to cues (visual and aural)
And, most importantly, synchronizing with others.
After lunch it will be time for electives, and you can choose music or something else to fill your afternoon!
We'll have a great time learning to play cool tunes, pick up a little music theory along the way, and have a nice performance at the end of the week.
Camp:
Fledgling Band Camp
Electives:
This Week's Electives: Quiet time, Ukulele, Costumes, Props & Sets, Bucket Drums, Dance, Free-play Construction & Game Room
Instructor:
Robin Kearton
Dates:
June 11-15, 2018
Duration:
1 week: Monday through Friday
Meeting Time:
Standard camp: 9:00am to 3:00pm

Extended camp: 9:00am to 5:00pm

Location:
C4A Studios
Age:
 6-10
Prerequisite:
 A few months to a few years of playing your instrument
Cost:
Camp cost, Discounts & Deadlines
Registration:
Register Online or contact us
Contact:
info@c-4a.org or 217-384-5150