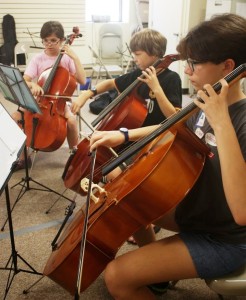 Expand your "cellistic" horizons at C4A this summer!
Coached by C4A's cello teachers,you'll experience the joy of playing cello in multiple formats: alone, in small chamber groups, and a large cello ensemble.  Here's how we'll spend our time:
Large ensemble: All campers together playing music arranged for cello ensemble.
Small ensemble: camp splits into two groups to play music arranged for cello ensemble.  A bit more intimate, but still has a rush of lush cello tone!
Studio class: campers play solos for and receive feedback from peers and teachers. The focus here is on technique and musicality.
Honing other skills: learn about music theory as it relates to your ensemble music and get some practice sightreading.
You may also be interested in these camps:
Camp:
Cello Camp
Instructors:
Chris Petterson and TBA
Dates: 
June 19 – 23, 2017

Afternoon performance on Friday, TBA.

Duration:
One week, Monday through Friday
Meeting time: 
9:00 AM to 3:00 PM
Location:
Camp will meet at C4A Studios

Friday afternoon performance location TBA

Age:
9 to 16
Prerequisites:
You must already play the cello.  Check with our instructors to find out if you are ready.
Cost:
Camp cost, Discounts, & Deadlines
Registration:
Register Online or contact us
Contact:
info@c-4a.org   or  217.384.5150
You may also be interested in: