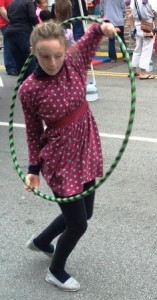 Come and learn an exciting performance art that's rapidly rising in popularity across America, often referred to as "The Flow Arts". It is a combination of juggling, object manipulation, dance, balancing, and various performance related circus skills. By combining body movement with patterns created by the spinning, tossing, rolling, etc. of any given prop, an entertaining visual display is created. The props taught in this class are juggling balls, contact balls, poi, staffs, clubs, hoops, and mini hoops. Some practice props will be provided. Everyone is encouraged to bring their own props if they have them.
Class
Spin, Juggle, and Flow
Instructor
Michael Braswell
Meeting Time
Tuesdays, 4:30 to 5:30 PM
Dates

January 24 to April 18, 2017.

No class March 21.

Snow day April 25

Duration
12 weekly sessions
Meeting Location
C4A Studios, Front Room (downtstairs)
7+
Proficiency
Beginner and up
Contact
info@c-4a.org

217.384.5150

Cost
$150. Discounts may apply. 
Next Offering
Fall 2017
Props used will include contact balls, juggling balls, staffs, clubs, poi, hoops, and mini hoops.