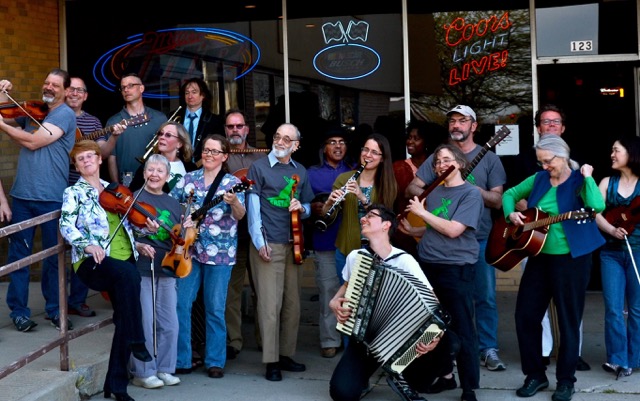 A neighborhood community band for amateur musicians who have always wanted to play with others in a friendly atmosphere. All instruments welcome, minimal ensemble experience required.  Repertoire includes fiddle tunes, tangos, Hendrix, Hungarian dances, and more.
Class

 Cretaceous Band

Instructor

 Tom Faux

Meeting Time

 Sundays, 4:30 – 6:00 pm

Dates 

January 15 to April 23, 2017.

Snow day April 30.

No rehearsal February 26, March 12 or March 19.

Performances TBA.

Contact us if you are interested in late registration.

Duration
12 weekly sessions

Meeting Location

C4A Studios, downstairs front room

Ages

Adult

Proficiency

Beginning to Intermediate

Contact

217.384.5150

Cost

$150.  Discounts may apply

register

next offering
Intersession 2017

Fall 2017
This group is for beginning to intermediate level players. You don't have to be an expert, but you should already be able to play your instrument at least a little.  You don't have to read music but we'll have charts available for most tunes.  We draw our repertoire from a large pool that includes dance music from all over: heartbreaking waltzes, smoking swing tunes, rock anthems, polkas, tangos, and things much further afield.  The focus will be on playing, learning, and having fun: adult entertainment in the best sense!  Bring your guitar, clarinet, accordion, trombone, panflute, hurdy-gurdy…
The Cretaceous Band is on Facebook!