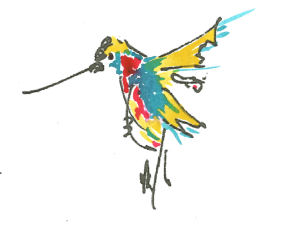 The second annual  community-based, youth-driven, participatory theater project.
Over the course of a 4-day intensive Hummingbird week, participants work together to learn compositional and performance techniques that move their original ideas (theatre, dance, spoken word, etc.) through all phases of production and culminating in an engaging, powerful evening of live theatre centered around themes of burning importance to the youth involved.
Participants ages 11-18 will be led by local theater artists Lisa Fay and Jeff Glassman, creating live theater originated and performed by the participants.
Why Hummingbird? The Hummingbird embodies a compelling design principal for this project in particular, and community-based theater work more generally: While nourishing itself with nectar from flowers, the hummingbird also pollinates the flowers.
Workshop:
Theatre of the Hummingbird
Instructors:
Lisa Fay and Jeff Glassman
Meeting times:

4 evenings, 6:00 to 9:00 PM
Sunday, December 27 through Wednesday, December 30, 2015
Final showing on Wednesday, December 30, from 8:00 to 9:00 PM, followed by a reception

Location:
C4A Front room, 202 West Main St, Urbana
Ages:
11-18
Prerequisites:
The project will culminate in performance, therefore we ask that participants be able to commit to the entire series of sessions.
Dress:
Please wear comfortable clothes that you can move in.
Cost:
Suggested contribution of $40.00 for 4 sessions.

Pay what you can — more or less — no problem.

You may pay for your sessions using PayPal here

You may donate to the Theater of the Hummingbird project here

Registration:
Register online or contact us to register
Contact:
info@c-4a.org   217-384-5150
You may make a donation to the Theater of the Hummingbird here: