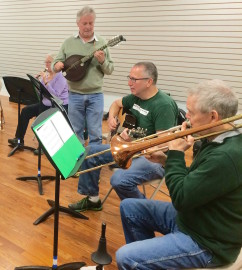 This merry group plays music from the Baroque and Renaissance periods.
For fall 2018 we are working on dance tunes and will accompany the English Country Dancers for their special Halloween dance in late October.
We'll also include concert pieces, some that feature various members of our group, from various sources, both familiar and unfamiliar.
Our musical goal is historically informed interpretations that leave room for modern sensibilities. The phrasing matters a lot, but the instrument you play being from the correct historic period does not.  So dig out your fiddle, recorder, clarinet, electric bass or whatever you like to play and come make some good music with us!
Class 
 Olde Music: Baroque & Renaissance Band
Instructor
 Robin Kearton
Meeting Time
 Thursdays, 5:30 – 7:00 PM
Dates 
September 13 to December 13, 2018.

No class November 22.

Late registrations accepted..

Duration
 12 weekly sessions
Meeting Location
 C4A Studios, downstairs front room
Ages
 High school to adult
Proficiency
 Advanced beginner to advanced
Must be able to read sheet music but fluent sightreading not required
Contact
 info@c-4a.org

217.384.5150

Cost
 $150.  Discounts may apply
Next Offering
Spring 2019
Most instruments are welcome. Interested pianists should contact us before registering.