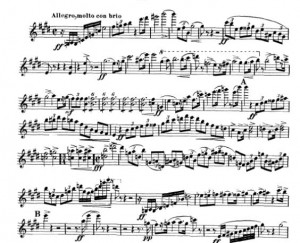 This class is not currently offered.  Please contact us if you are interested in this class.
Playing orchestral auditions has become a specific kind of performance, separate from solo, chamber, and even orchestral playing. This class will offer detailed instructions regarding the bowings, fingerings, tempos, articulation markings, phrasing, style, and psychological preparation for a live audition.
Younger players who would like an orchestral playing experience may enjoy our Audacious String Orchestra.
Class

Orchestral Excerpts for Violin

Instructor

Igor Kalnin

Meeting Time

Mondays, 5:30 – 6:30 PM

Duration

6-week session

Session 1: 9/9 – 10/21

Session 2: 10/28 – 12/9

(No class 11/25)

Meeting Location

C4A Room TBA

Ages

High school, college, adult

Proficiency

Advanced knowledge of upper position work and bowing techniques. Details below.

Contact

 info@c-4a.org  217.384.5150

Cost

 $100 per 6-week session


Next offering

Fall 2014
This course assumes advanced technical development.   Less-skilled players may audit the course with instructor consent.  If you have questions about whether you are ready for this class please contact us.