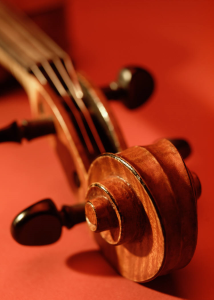 This course is designed for violinists age high school to adult who have taken Violin from Scratch or play at an advanced beginning skill level, and will continue to challenge violinists who play at intermediate skill levels. Please see below for details.
This class may be taken multiple times; students may join at the beginning of any 6-week session.
Basic Class Format:
The first part of the class will focus on technical development with bow drills and finger pattern review. Everyone will receive an individual technical suggestion based on their need at the moment.
 Next comes a brief applied theory section including scales & arpeggios and instruction on reading sheet music. The content will range from introductory to intermediate topics in each session. No worries if you feel over your head for part of it—you'll keep hearing it until it makes sense.
Next comes some playing by ear. We'll do short call and response phrases to warm up (my turn, your turn) and learn some simple tunes by rote.  You will be given sheet music for the tunes we learn, so if you currently rely on reading there's no need to feel apprehensive about this part. Over time your ears and fingers will start to work together and learning to listen as you play will improve every aspect of your playing—even your reading!
The last part of each session will involve playing arranged music.  Repertoire will be selected from a variety of styles, and each arrangement will include a wide range of skill requirements so that everyone can participate at a level where they are comfortable. Those not comfortable with reading need not worry; there will be enough explanation so that you know what to do, and your reading skills will develop along the way.
There will be you tube videos and handouts for all major instruction points and repertoire selections so you'll have resources for your home practice. Additionally, students are encouraged to make their own videos in class.
You'll need your own instrument; please contact us if you would like help locating one. Veteran teacher Robin Kearton will lead the class.
This is a group class for the purpose of single-instrument instruction. If you'd like to play in a mixed-instrument ensemble you may be interested in the Cretaceous Band,  Jazz Combo,  or Olde Music Baroque & Renaissance Ensemble.
Advanced beginner prerequisite skills:
Has taken Violin from Scratch OR
Is able to use bow for simple rhythms AND
Is able to comfortably play the fingering pattern with a half step between 2nd and 3rd fingers ("high 2" or able to play D major scale starting on the open D string)
No music reading is required; you'll learn as we go.
Class

Violin Continuing Group 

for Adults 

Instructor

Robin Kearton

Time

Tuesdays, 5:30 to 7:00 PM

Dates 

Session 1: September 11 to October 16, 2018.

Session 2

: November 13 to December 18, 2018

Duration

 6 weekly classes. May be repeated.

Students may join at the beginning of any session.

Location

C4A Studios, Front Room 

Ages

High-school students to Adults

Skill Level

Advanced beginner through intermediate skills. Please see below for details. 

Contact

info@c-4a.org  

217.384.5150  

Cost

$100 per 6-week session.  5% discount if you sign up for both sessions.

Next Offering

Spring 2019