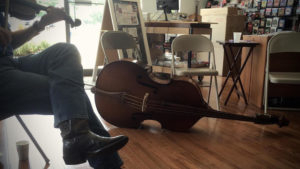 This year's jam will be Friday, July 12 through Sunday, July 14, 2019.  
The festivities will be held in C4A's big downstairs rooms at 202 West Main Street in downtown Urbana.
SCHEDULE
Friday, July 12
7:00 PM Dessert Pot-Luck Open Jam.  Help us get a sweet beginning to our jam weekend!  Bring a dessert to share and an instrument to play.  Or come and listen.  All are welcome.
Saturday, July 13
10:00 AM Slow Beginner Jam with Robin Kearton.  For people who can play their instrument but don't play very fast, or are not used to playing by ear. Instruction will be offered as needed. Especially for fiddle and guitar players, but all are welcome.
Time TBA: Accordion Jam with Rob Sweedler.  This jam will focus on accordion and harmonica players, but everyone is welcome–especially rhythm players.
7:00 PM Traditional Open Jam.  Everyone is welcome–we'll play whatever we feel like! For experienced jammers, but novices are welcome to come and pick along.
10:00 PM Young Adults Late Night Jam.  This jam directed by and for young adults will be fast and furious!
Sunday, July 14
7:00 AM Whiskey Before Breakfast Jam led by Wayne Logue.  (Coffee also available!) For experienced jammers.
4:00 PM Kids Jam with the Bow-Dacious String Band.  Kids are especially invited, but all ages are welcome!
There is no charge to participate in any of these jams–just come on by! Join us if you play fiddle, banjo, guitar, bass, mandolin, or anything else that works in an old-time jam!  Most of us will be playing by ear, but there will be a limited supply of sheet music or chord charts. 
(If you're coming from out of town drop us a line, and we can point you to lodging.)
If you don't play you can still participate!  We'd love it if you'd volunteer to help out at the jam, especially feeding the musicians, and keeping the coffee pot stoked.
Want to play?  Want to volunteer? Want more information?  Email us!