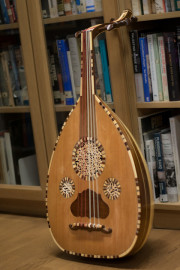 Join us for Oud Open Day on Saturday, September 14, 2019, from 1:00 to 4:00 PM!
This is your opportunity to meet the C4A Oud instructors and continuing students.  You'll get to hear them play Oud and tell about their journeys with the Oud. Our lead instructor will describe the series of courses and tell you how you can join the family and become an Oud player! 
Enter C4A at 103 North Race St.  Go through the glass doors, up the stairs, and down the long hallway to room 7. This is a free introductory event. 
This fall we will continue our classes for Oud, with 2 sections for beginners.
More experienced players may join our new Middle Eastern Ensemble this fall! This is a teaching and performance group for Oud and other instruments that can play quarter tones.
Here is a video clip of lead instructor Fadi Alnaji with assistant instructor Nabil Ramlawi at a recent presentation hosted by the UIUC Summer Institute for the Languages of the Muslim World.