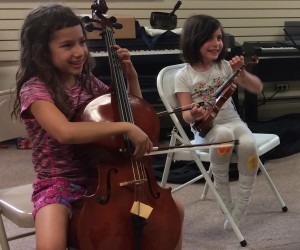 You can join this band as soon as you start playing! There's no need to wait until you're "good enough" to start playing with other musicians–we will teach you how to work in a group!
And yes, it will be fun!
This ensemble is suitable for all beginning to advanced beginning level string students (bowed or plucked) even if you just started!.  Classes for age 4 to 6  and age 7-10.
This class is not a replacement for lessons, and students in the class need to have a teacher.  They can study at C4A or in another teacher's studio, but they do need to be taking lessons to participate.
Our focus will be on skills required to be a good ensemble player:
Rhythmic precision
Group tuning
Responding to cues (visual and aural)
And, most importantly, synchronizing with others.
Additionally, students will receive experience playing in front of others and learn the fine art of giving and receiving constructive criticism.
The older kids in this class may opt to stay for the first half of the Bow-Dacious String Band for no extra fee.
Class:
Fledgling Band
Instructor
Robin Kearton
Ages
Ages 4 to 6 (or with consent of Instructor) 

Ages 7 to 10 (or consent of instructor)

Meeting time
TBD
Dates
TBD
Meeting location
C4A
Skill level
Beginning to advanced beginning/intermediate:

violin, viola, cello, guitar, ukulele

Contact
info@c-4a.org

217-384-5150

Cost
Next offering