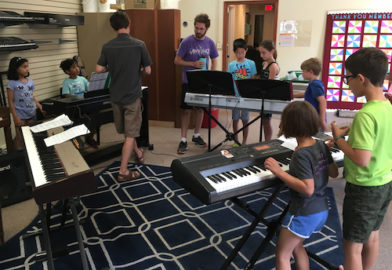 We are not currently offering Keyboard Band for Kids, but young pianists and other keyboard players are welcome to join the Bow-Dacious String Band.
One problem with studying piano is that early-level students rarely have a chance to play with others in a dynamic musical situation.
Problem solved!  Keyboard Band for Kids is a unique opportunity for young pianists to get ensemble experience that will serve them well for the rest of their musical lives!
C4A pianist Rob Sweedler, who is comfortable playing in a variety of styles, will lead the group in exercises to help with ear training and real-time musical responses.  He will also get the group started on standard comping skills so they will be ready to improvise,  jam, and participate in other ensembles. (Comping is making up an accompaniment based on the chords in the piece.) Repertoire for the group will be based on skill level and the various musical interests of the participants.
This is a fun way to gain valuable experience playing with other musicians and make new friends at the same time!
CLASS
Keyboard Band for Kids
INSTRUCTOR
Rob Sweedler
MEETING TIME
Not currently offered
DURATION
DATES
LOCATION
C4A Facility, Middle Room
AGE
7-15 years or consent
SKILL LEVEL
Some experience with piano; able to play simple melodies and a few chords.
CONTACT
info@c-4a.org

217-384-5150

COST
 Discounts may apply
NEXT OFFERING
TBD