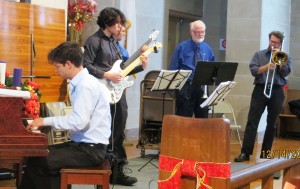 C4A Jazz Band is for people who already know how to play instruments and want to work on learning jazz standards, playing over chord changes, working up solos, and accompanying ideas. You should already know how to play your instrument, but you don't have to know how to improvise–you will learn as you play in your band! 
Popular C-U bassist, Josh Houchin, will lead you in playing music from the swing era, the bebop era, the post bop era, the cool era, the fusion era, and we're not limited to that!  Participants are encouraged to bring in their own arrangements and compositions. This is a great opportunity to interact with other musicians in an ensemble setting.
Jazz Band is offered in a 12-week semester format, but you may join any time.  Come by yourself and join our existing group or get a group of friends together so you can practice together outside of class too!
Class

Jazz Band

Instructor

Josh Houchin

Meeting Time

Sundays, 3:00-4:15 PM

Dates 

January 27- April 28, 2019.

No rehearsal March 17.

Snow day May 5.

Late registrations accepted.

Duration

12 weekly sessions

Meeting Location

C4A MIddle Room (downstairs)


Ages

Middle school to adult

Skill Level

Should already be comfortable playing your instrument; you do not need to know how to improvise.

Contact

info@c-4a.org  

217.384.5150  

Cost

$150 per semester. Discounts may apply. 

 Next offering

 Late spring or summer 2019