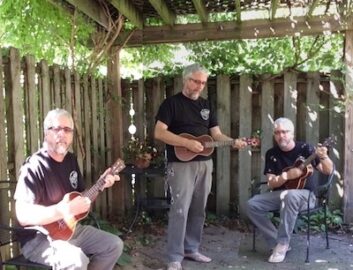 Community Center for the Arts online UKULELE ensemble.
"Ukulele" means "dancing flea" in Hawaiian. Stuck at home playing solo? Scratch your communal music-making itch in this 12-week Zoom teaching ensemble. We will play fantastic and unusual music—including some repertoire played by the Marvelous Cretaceous Band—and produce collaborative videos for posting to our favorite social media sites.
Zoom meetings will cover ukulele technique and arrangement, and some individual playing, but most of the playing and recording will be done on your own time.
Requirements:
• A ukulele: soprano, alto, tenor, or baritone. If you would like to play but don't have a ukulele, contact us.
• Capability of making and sending a home video. Most laptop, phone, or tablet formats will work.
• An intrepid musical spirit.
Class
The Fleas
Instructor
Tom Faux
Meeting time
Sundays, 4:30 to 5:30 pm
Dates
Begins January 17, 2021
Duration
Spring semester: 12 weekly sessions
Meeting location
Zoom link provided to registered participants
Ages
Mature middle school through mature adult
Skill level
Uke experience not necessary, some guitar or other plucked string background will be very useful.
Contact/Register
info@c-4a.org
Cost
Spring semester: $150.

Contact us if you require financial assistance.