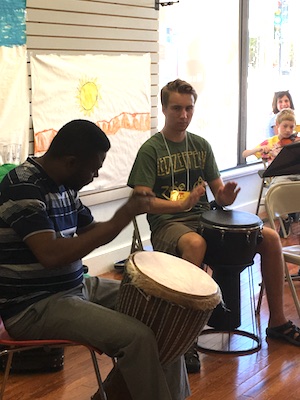 OUR BIG NEWS: 
Thanks to generous funding from the Community Foundation of East Central Illinois, C4A we have just acquired an extraordinary set of carved West African djembe drums. This spring semester we will begin offering a weekly Thursday evening African Drumming Circle under the direction of Jean René Balekita. 
Mr. Balekita will teach drumming repertoire from central and western Africa, and will give instruction in synchronized interlocking drum patterns and djembe drumming techniques. 
African drumming is among the world's most powerful and expressive musical forms. African drumming helps us develop musical skills that inform and improve ALL of the music we play. Musicians of all levels of skill are very welcome and highly encouraged!
If you are interested in participating, please email us at info@c-4a.org, and put DRUMMING CIRCLE in the subject line. 
African Drumming Circle
Instructor
Jean Rene Balekita
Meeting time
Thursday evenings, 6:00 to 7:00 pm
Dates

February 21 to May 16, 2019.

No meeting March 21.

Snow day May 23.

Summer dates TBA.

Duration
12 weekly sessions
Location
C4A
Ages
High school – mature adult
Skill level
Beginner to intermediate
Contact
info@c-4a.org

217-384-5150

Cost
$150 for the 12-week session.  Discounts may be available. 
Next offering 
Summer and Fall, 2019