We're closing in on our goal to raise $15,000 before the end of the year!  Can you help?  Please scroll down to see our funding needs and goals, and a way for you to track our progress. 
Track our progress!
We will color in one note for each $500 raised. Our membership drive launched on November 1; as of December 29 we have raised $10,050.00.
We're over 2/3 of the way to our goal, but we still need almost $5000. We can do it with your help! 

 (You may also mail a check to C4A at 103 N Race St, Urbana, IL 61801)
 What will we do with your gift?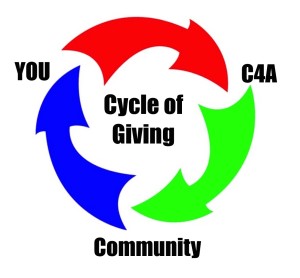 Check here for 2014-15 season Annual Report and Season Highlights (We're still working on our 2015-16 report)
Check here to learn about scholarship levels
Check here to see our Facilities Upgrade plan
Check here to learn about C4A Membership