These electives go along with Spin, Juggle Flow Camp & Junior Camp. Campers can choose the elective they like, even if it is not related to their core camp.
Campers in Standard Camp should pick a 1st period elective; Extended Day campers should pick electives for both periods.
1st period:
Costumes, Props & Sets: Learn about clothes, hair, and makeup, and how to create your own look for your Flow Arts presentation.
Quiet Time: This elective is required for Junior Campers (age 4-7) but older campers are also welcome to choose this option. We'll color or draw, read, play quiet games, listen to music, rest, or even take a nap!
2nd period:
Ukulele: Learn chords or melodies and play your favorite songs! Take this elective multiple times to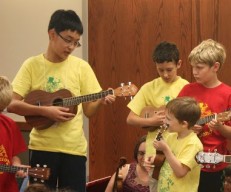 deepen your skill.
Free-play Construction: Combine your creativity and our materials to build a fort, a village, or another project of your dreams!
Game Room: Cards, board games, dominoes, checkers, chess – it's all good and our staff will help you learn strategies and skills.