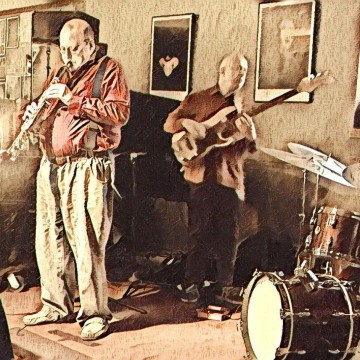 Brad Wheeler is well-known in both local and international jazz circles as a premiere saxophonist, composer, and arranger. As a teacher, Brad wants to help each student achieve their own goals.
He has performed extensively in Chicago with musicians Mose Allison, Kurt Elling, Von Freeman, Laurence Hobgood, the Chicago Jazz Orchestra, the Jazz Members Big Band, Jim McNeely, Ed Petersen Quintet, Willie Pickens, the Joel Spencer quartet, Paul Wertico and Joe Williams, to name a few. He also lived in Paris for several years, where he led his own groups and performed with such artists as Steve Arguelles, Ronan Guilfoyle, Riccardo Del Fra, Mory Kante, Horace Parlan, Johnnie Griffin, Ben Sidran and Youssou n'dour. He played on Radio France and taught at the American School of Modern music.
He is featured on numerous recordings, including The Future Was Yesterday, newly released in 2005, and two Grammy-nominated recordings with Kurt Elling: Man Up in the Air, and This Time It's Love. He has written arrangements for Joe Henderson, Benny Golson and Kurt Elling, composed works for jazz and studio orchestra, and written music for independent film and video projects.
Brad holds a Master of Music degree in jazz studies and contemporary media from the Eastman School of Music. He also studied contemporary music composition with Salvatore Martirano, attended Dave Holland's Jazz Workshop in Banff, Canada, and was awarded a National Endowment for the Arts jazz grant to study with Dave Liebman in New York City.
Listen to Brad on Youtube: