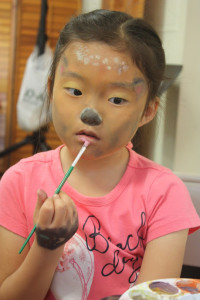 Want to add some flair to your performance?  Whether you're onstage at the Met or playing the Farmer's Market, you can add dimension to your performance by employing some basic production techniques!
At this camp we'll engage in age-appropriate projects relating to the costume, props, scenery, lighting and make-up areas of theater production. Since we place an emphasis on using recycled and/or simple materials, students may be encouraged to bring unwanted clothing items/accessories from home, but all necessary materials will be provided.
Our activities for the week will include things like:
make-up/face painting/masks
simple costume accessories
props/scenery ideas and simple constructions
brainstorming and simple rendering techniques for getting your ideas down on paper
Campers will be asked to keep a sketchbook for their design ideas and will be introduced to age-appropriate processes involving brainstorming and drawing techniques, machine and hand- sewing, pattern creation, up cycling, glue-gun, duct tape, paper maché etc.
You may also be interested in:
Camp: 
Behind the Scenes: Production Camp
Instructors:
Kim Curtis and Angela Urban
Dates:
Week 1: July 25-29, 2016

Week 2: August 1-5, 2016

Meeting time:
9:00 AM to 3:00 PM
Duration:
Two one week sessions, Monday through Friday.

You may register for one or both weeks.

Doing both is strongly encouraged for continuity.

Location:
C4A Studios, room 8 (downstairs)
Ages:
6 to 12 years or consent
Prerequisites:
Children should be capable of using items such as

scissors and pins responsibly and able to employ

basic construction techniques (taping, gluing, tying, wrapping etc.)

Cost:
Camp cost, Discounts, & Deadlines
Registration:
Register online or contact us
Contact:
info@c-4a.org   or  217-384-5150